What is a Memorial Video?
It is a tribute that focuses on the life of the deceased and is shown at the funeral home or place of worship prior to or during a memorial service. It is created using photos, slides, and music. With 30 photos and 2 songs, we'll create a meaningful memorial video on a high quality DVD in a custom case. A memorial video is much more then a slide show. It's a unique way to celebrate the life of the deceased.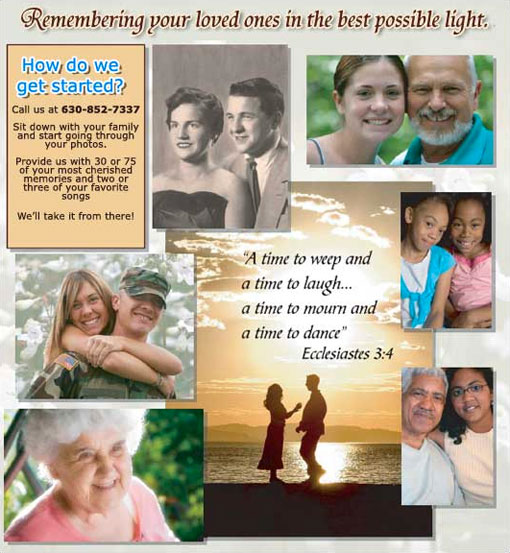 Why Produce a Memorial Video?
Gathering the photos becomes a special time of reminiscing and sharing memories. The video changes the whole atmosphere of the gathering. Instead of people not knowing what to say, there is a spirit of celebration.
How can I use a Memorial Video?
It is often used at a visitation or gathering. It is also appropriate to use the video as a part of the funeral or memorial service, and can be shared with those who were unable to attend the service. It also becomes a keepsake for family members and friends of the deceased.
How long does it take to produce?
24 hours from receiving all the photos.
How much does a Memorial Video Cost?
Option 1: Up to 30 photos and two songs $179
Option 2: Up to 75 photos and three songs $299